Hiroki kuroda
Hiroki Kuroda ( Kuroda Hiroki born February 10, 1975) is a professional baseball player from Osaka, Japan. He is a starting pitcher for the Los Angeles Dodgers.
Star player Hiroki Koruda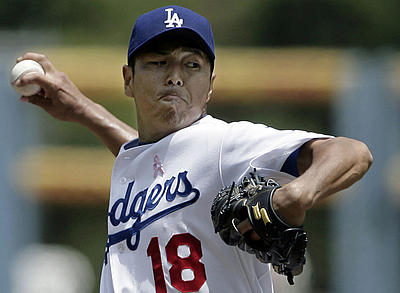 Hiroki Kuroda wasn't as upset about losing his bid for baseball history as he would have been had he given up runs in a tight game.
Kuroda took a perfect game into the eighth inning and settled for a one-hitter, leading the Los Angeles Dodgers to a 3-0 home victory over the Atlanta Braves on Monday night.
The right-hander retired the first 21 batters before Mark Teixeira lined his 70th pitch into the right field corner for a double leading off the eighth.
"My main concern was that he was the leadoff hitter in that inning, it was a 2-2 count and I didn't want to walk him because I didn't have that big of a lead," Kuroda said through a translator. "I was concentrating more on not allowing any runs. I wasn't really nervous, but I felt the pressure from the fans because they were expecting something big."
Catcher Russell Martin said the slider he called for didn't miss its target by much.
"Teixeira's first at-bat he swung over a slider, but the pitch he hit was a little bit higher in the zone than that one," Martin said. "But you've still got to give credit to Teixeira for putting a good swing on it. As soon as he hit it and I heard the sound, I kind of put my head down. There went the perfect game — but at that point, you've still got to win the game. It was an awesome performance."
Teixeira was the only baserunner for the Braves, who had flown across the country after waiting through a 1-hour, 50-minute rain delay in a 7-6, 17-inning victory over Houston on Sunday — the longest game ever at Turner Field.
"We don't want to have a perfect game thrown against us, but Kuroda was great tonight — probably the best pitching performance we've seen all year," Teixeira said. "His stuff was great — a mid-90s fastball, putting it exactly where he wanted it, sinking his fastball at 90 to get you to ground out or miss. He probably made one mistake all night, and I just got lucky enough to put a good swing on it. It definitely was the most hittable pitch I saw all night."
Kuroda (5-6) was attempting to become the first Dodger to throw a no-hitter since Sept. 17, 1996, when countryman Hideo Nomo beat Colorado 9-0 at Coors Field.
"He was throwing 95 mph sinkers that were dropping off the table," Atlanta catcher Brian McCann said. "There was nothing we could have done. He had awesome stuff. He was phenomenal."
Kuroda, 33, signed with the Dodgers in December as a free agent after 11 seasons with Hiroshima of the Japanese Central League. He threw 91 pitches and struck out six in a game that lasted just 2 hours and 3 minutes.
"Those guys were swinging and he was able to keep his pitch count down," Martin said. "He was staying aggressive, throwing a lot of first-pitch strikes and inducing contact early in counts. It was an awesome performance."
The closest the Braves came to a baserunner before Teixeira's hit was in the seventh, when Gregor Blanco dropped a bunt to the left of the plate on Kuroda's first pitch of the inning. Rookie third baseman Blake DeWitt made a barehanded pickup and threw him out by a step.
Kuroda was sidelined 18 days because of a sore shoulder. He rejoined the rotation on July 2 and held the Astros to five hits over seven innings in a 4-1 victory. The complete game was the second in 15 starts for Kuroda, who beat the Cubs 3-0 with a four-hitter and had a career-high 11 strikeouts on June 6.
Manager Joe Torre nearly ran out of superlatives describing Kuroda's effort.
"He was close to perfect. That's the only way to describe it. You can't get much closer to being perfect than that," Torre said. "He worked fast and threw a lot of strikes, as evidenced by his pitch count at the end of the game. That was about as robotic as you've ever seen any pitcher just throw one strike after another. He was like a machine. He kept us on the edge of our seats."
We are all fans of Hiroki kuroda