Adam Michael Goldstein
Goldstein was a member of the rock band Crazy Town, known for their hit "Butterfly". He has also scratched on albums for Papa Roach, Madonna, Will Smith, and Shifty and played concerts with Jay-Z. He has played private events for celebrities like Jim Carrey, Jessica Simpson, Jennifer Lopez, Ben Stiller, Leonardo DiCaprio, Ashton Kutcher, Demi Moore, and Kate Hudson. He had had a one-year contract with Las Vegas' Pure Nightclub inside Caesar's Palace to play at the venue every Friday and opening a nightclub at Caesars Atlantic City called Dusk.
He had recently collaborated with Travis Barker of Blink-182 and +44 in several performances, including the 2008 MTV Video Music Awards. On December 1, 2008, TV Guide reported that DJ AM would make his first appearance with Travis Barker since the two survived the plane crash. The duo performed at New Year's Nation's Los Angeles 2008 New Year's Eve Party at The Wiltern. Their performance was streamed live on the Internet via New Year's Nation's official site, and was broadcast at other New Year's Nation parties across the Before the gig Barker told press, "I'm ready to get back onstage with AM and continue to rock the house. I'm very excited to bring in the New Year in my hometown of L.A."
His reality television appearances include Punk'd, where his former fiance, Nicole Richie, was the subject of a practical joke, and the third season of The Simple Life. Goldstein appears as himself in the "What About Bob?" episode of Entourage's third season; he gets the last pair of an exclusive line of shoes, right before Vince (Adrian Grenier) and Turtle (Jerry Ferrara) arrive.
In 2009, DJ AM became Rain Nightclub's regular Friday night DJ.
Backgroud information:
Birth name- Adam Michael Goldstein
Also know as- Dj AM
Born- March 30, 1973(1973-03-30)
Philadelphia, Pennsylvania, U.S.
Died- August 28, 2009 (aged 36)
New York City, New York, U.S
Occupations- Dj
Associated- Crazy Town, Steve Aoki, DJ
Acts- Jazzy Jeff, Travis Barker
Personal life
After overcoming his crack cocaine addiction and having gastric bypass surgery, Goldstein dated socialite and reality TV star Nicole Richie. The engagement was announced in early 2005. On December 7, 2005, both he and Richie called off the engagement.
After his breakup with Butler, Goldstein dated singer/actress Mandy Moore. They broke off the relationship in March 2007.
DJ AM was an avid "sneakerhead" (posting on sneaker enthusiast message board Niketalk.com), he collected athletic shoes, primarily Nikes. His collection of over 600 shoes includes a pair of Nike Air Force 1 shoes that were created specifically for him, with his DJ AM logo appearing on the shoe itself. In a new commercial, he starred alongside Mike Epps and Kobe Bryant sporting the Nike Air Yeezy, the signature shoe for Kanye West.
Travis Barker, DJ AM To Perform At New Year's Eve Party
Travis Barker and DJ AM will perform together on New Year's Eve, marking the first time they've shared a stage since surviving the September 19 plane crash that killed four people.
The duo will headline New Year's Nation's Los Angeles New Year's Eve Party at the Lot in West Hollywood, California. Their performance will also be streamed live on the Internet via New Year's Nation's official site, and will be broadcast at other Nation parties across the U.S.
"I'm ready to get back onstage with AM and continue to rock the house," Barker said in a statement. "I'm very excited to bring in the New Year in my hometown of L.A."
Barker and AM last performed together at a T-Mobile-sponsored event in Columbia, South Carolina, on September 19, just hours before boarding a private jet that crashed and killed four, including Barker's assistant, "Little" Chris Baker, and his security guard, Charles "Che" Still.
The duo escaped the crash, but suffered second- and third-degree burns that have required extensive therapy in burn centers in Georgia and Los Angeles. In October, AM — born Adam Goldstein — had healed enough to get back behind the decks, first making an appearance at a "welcome home" party at the Hollywood club Avalon and then serving as DJ at several Jay-Z gigs, including one at the Palladium the following night.
And earlier this month, Barker's +44/ Blink-182 bandmate (and best friend), Mark Hoppus, told MTV News that the former Blink drummer was "healing incredibly well," and "can't wait to get back on the drums. He can't wait to get back in the studio."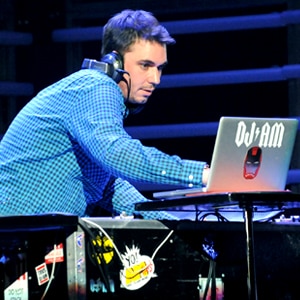 Speculation about a possible Blink-182 reunion was spurred last month by a Hoppus blog post in which he wrote about hanging out with Barker and singer/guitarist Tom Delonge for the first time in years.

Plane crash
2008 South Carolina Learjet 60 crash
On September 19, 2008, after having performed at a college event with frequent collaborator Travis Barker, Goldstein was seriously injured when a Learjet he was traveling in crashed on takeoff in Columbia, South Carolina. The crash killed both crew members and two other passengers, and critically injured Goldstein and Barker. They were both transported to the Joseph M. Still Burn Center in Augusta, Georgia, and were both listed in critical condition. According to reports, Goldstein suffered burns on his hands and part of his head. His ex-girlfriend, singer Mandy Moore, with whom he was still close, flew to be by his side at the Georgia hospital where he was staying. Goldstein was released from the hospital on September 26, 2008, a spokeswoman told AP.
In December 2008, Goldstein filed a civil lawsuit against the plane's charter company, Learjet and Goodyear tires; the suit claims negligence on the part of the pilots and a manufacturing defect on the part of the plane. Goldstein was asking for damages for pain and suffering, mental anguish, disfigurement and loss of earnings. Goldstein was the last passenger to file a civil suit; the estates of deceased passengers Chris Baker and Charles Still have already filed suits, as has crash survivor Travis Barker, although Barker and Still's suits did not name the deceased pilots as defendants.
Death
Adam Goldstein was found dead at his New York City apartment at around 5:20 p.m. on Friday, August 28, 2009. He was 36 years old. Friends called the police, who along with paramedics broke into the apartment and found Goldstein's body. Sources say the cause of death may have been accidental drug overdose Statements by a New York law enforcement official to the Associated Press indicate that drug paraphernalia was found in the apartment, but no signs of foul play.