Roman Raymond Polanski (born August 18, 1933) is a Polish-French film director, producer, writer and actor. Polanski began his career in Poland, and later became a celebrated Academy Award-winning director of both art house and commercial films, making such films as Rosemary's Baby (1968) and Chinatown (1974). Polanski is one of the world's best known contemporary film directors and is widely considered as one of the greatest directors of the time. He is also known for his turbulent and controversial personal life.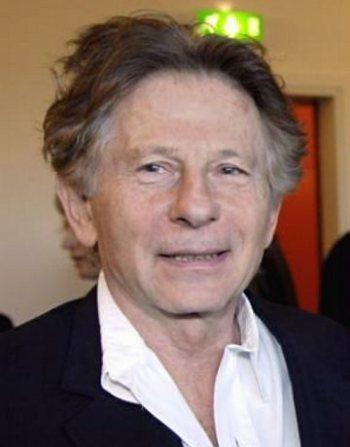 Polanski survived the Holocaust in German occupied Poland during World War II. In 1969, his pregnant wife, Sharon Tate, was murdered by the Manson Family. In 1977, he was arrested in Los Angeles and pleaded guilty to "unlawful sexual intercourse with a minor", a 13-year-old girl. Released after a 42-day psychiatric evaluation, Polanski fled to France. For decades, he was considered by U.S. authorities to be a fugitive from justice and did not return to the United States.
Polanski has since avoided visits to countries that were likely to extradite him, such as the United Kingdom.
He travels mostly between France, where he resides, and Poland. As a French citizen, he is protected by France's limited extradition with the United States, and Poland is also unlikely to extradite him. On 26 September 2009 he was arrested by authorities in Switzerland on the 1978 US arrest warrant, while travelling to the Zurich Film Festival to collect a lifetime achievement award.
Polanski has continued to direct films in Europe, including Frantic (1988), Death and the Maiden (1994), The Ninth Gate (1999), the Academy Award-winning (for best director) and Cannes Film Festival Palme d'Or-winning The Pianist (2002), and Oliver Twist (2005). He has also done occasional work in theatre and in the films of other directors.
Personal life
Polanski was born Rajmund Roman Liebling in Paris, France, the son of Bula[8] (née Katz-Przedborska) and Ryszard[8] Liebling (aka Ryszard Polański), who was a painter and plastics manufacturer.[9] Polanski's parents were agnostics.[10] His father was a Polish Jew and his mother, a native of Russia, was brought up as a Catholic as she had a Jewish father and a Roman Catholic mother.
The Polański family moved back to the Polish city of Krakow in 1936,[8] and were living there in 1939, when World War II began. Poland was invaded and occupied by Nazi Germany and the Soviet Union. As a Jewish family, the Polańskis were targets of German Nazi persecution and forced into the Kraków Ghetto, along with thousands of other Polish Jews.
His father survived the Mauthausen-Gusen concentration camp in Austria, but his mother died in 1942 in the Auschwitz-Birkenau concentration camp. Polanski himself escaped the Kraków Ghetto in 1943, and survived the war with the help of Polish Roman Catholic families in poor and uncertain conditions, sleeping in a barn next to cows.[citation needed] After the war he was reunited with his father and moved back to Krakow.
Polanski's father married Wanda. He died of cancer in 1984.
During the Soviet imposed communism in Poland, Roman Polanski attended the Polish film school in Łódź, and graduated in 1959.
Polanski's first wife, Barbara Lass (née Barbara Kwiatkowska), starred in When Angels Fall. The two were married in 1959 and divorced in 1961, when she left him for German actor Karlheinz Böhm.[citation needed]
Martin Ransohoff introduced Polanski and rising actress Sharon Tate shortly before filming The Fearless Vampire Killers, and during the production the two of them began dating. On January 20, 1968, Polanski married Sharon Tate in London.[19][20] In his autobiography, Polanski described his brief time with Tate as the best years of his life. During this period, he also became friends with martial-arts master and actor Bruce Lee.
Manson murders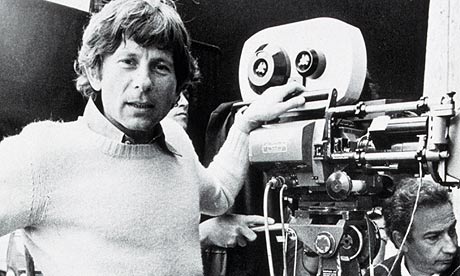 On August 9, 1969, Tate, who was eight months pregnant with the couple's first child (a boy), and four others (Abigail Folger, Jay Sebring, Wojciech Frykowski, and Steven Parent) were brutally murdered by members of Charles Manson's "Family", who entered the Polanskis' rented home at 10050 Cielo Drive in the Hollywood Hills intending to "kill everyone there". Terry Melcher (son of film icon Doris Day) and his girlfriend at the time, actress Candice Bergen, had lived at the house, but had moved out in February, 1969. The following month, Polanski and Tate moved in. Melcher had angered Charles Manson because he had declined to record some of his music.
When Manson ordered members of his group to go to the property and kill everyone, they obeyed. After Parent, Sebring, Frykowski, and Folger had been murdered, Tate pleaded for the life of her unborn son. Susan Atkins replied that she felt no pity for her and began stabbing her.
Polanski was at his house in London at the time of the murders and immediately traveled to Los Angeles, where he was questioned by police. As there were no suspects in the case, police checked on the past history of Polanski and Tate to try to determine a motive. After a period of months, Manson and his "family" were arrested on unrelated charges, which revealed evidence of what came to be known as the Tate-LaBianca murders. Polanski returned to Europe shortly after the killers were arrested. He later said that he gave away all his possessions as everything reminded him of Tate and was too painful for him. His greatest regret was that he was not in Los Angeles with Tate on the night of the murders.
Sex crime allegations
In 1977, Polanski, then aged 44, became embroiled in a scandal involving 13-year-old Samantha Geimer (then known as Samantha Gailey). It ultimately led to Polanski's guilty plea to the charge of unlawful sexual intercourse with a minor.[23]
According to Geimer, Polanski asked Geimer's mother if he could photograph the girl for the French edition of Vogue, which Polanski had been invited to guest-edit. Her mother allowed a private photo shoot. According to Geimer in a 2003 interview, "Everything was going fine; then he asked me to change, well, in front of him." She added, "It didn't feel right, and I didn't want to go back to the second shoot."
Geimer later agreed to a second session, which took place on March 10, 1977 at the Mulholland area home of actor Jack Nicholson in Los Angeles. "We did photos with me drinking champagne," Geimer says. "Toward the end it got a little scary, and I realized he had other intentions and I knew I was not where I should be. I just didn't quite know how to get myself out of there." Geimer testified that Polanski performed various sexual acts on her, after giving her a combination of champagne and quaaludes. In the 2003 interview, Geimer says she resisted. "I said no several times, and then, well, gave up on that."
Charges and guilty plea
Polanski was initially charged[29] with rape by use of drugs, perversion, sodomy, lewd and lascivious act upon a child under 14, and furnishing a controlled substance (methaqualone) to a minor. These charges were dismissed under the terms of his plea bargain, and he pleaded guilty to the lesser charge of engaging in unlawful sexual intercourse with a minor.[30]
Imprisonment and flight
Following the plea agreement, according to the aforementioned documentary, the court ordered Polanski to report to a state prison for a 90-day psychiatric evaluation, but granted a stay of ninety days to allow him to complete his current project. Under the terms set by the court, he was permitted to travel abroad. Polanski returned to California and reported to Chino State Prison for the evaluation period, and was released after 42 days.
On February 1, 1978, Polanski fled to London, where he maintained residency. A day later he traveled on to France, where he held citizenship, avoiding the risk of extradition to the U.S. by Britain. Consistent with its extradition treaty with the United States, France can refuse to extradite its own citizens. An extradition request later filed by U.S. officials was denied. The United States government can request that Polanski be prosecuted on the California charges by the French authorities.
Polanski has never returned to England, and later sold his home in absentia. The United States can still request the arrest and extradition of Polanski from other countries should he visit them, and Polanski has avoided visits to countries that are likely to extradite him (such as the UK) and mostly travels and works in France, Germany, the Czech Republic and Poland.
Later developments in the case
In a 2003 interview, Samantha Geimer said, "Straight up, what he did to me was wrong. But I wish he would return to America so the whole ordeal can be put to rest for both of us." Furthermore, "I'm sure if he could go back, he wouldn't do it again. He made a terrible mistake but he's paid for it".
In 2008, Geimer stated in an interview that she wishes Polanski would be forgiven, "I think he's sorry, I think he knows it was wrong. I don't think he's a danger to society. I don't think he needs to be locked up forever and no one has ever come out ever — besides me — and accused him of anything. It was 30 years ago now. It's an unpleasant memory ... (but) I can live with it."
In 2008, a documentary film of the aftermath of the incident, Roman Polanski: Wanted and Desired, premiered at the Sundance Film Festival. Following review of the film, Polanski's attorney, Douglas Dalton, contacted the Los Angeles district attorney's office about prosecutor David Wells' role in coaching the judge, Laurence J. Rittenband. Based on statements by Wells included in the film, Polanski and Dalton are seeking review of whether the prosecutor acted illegally and engaged in malfeasance in interfering with the operation of the trial.
In December 2008, Polanski's lawyer in the United States filed a request to Judge David S. Wesley to have the case dismissed on the grounds of judicial and prosecutorial misconduct. The filing says that Judge Rittenband (now deceased) violated the plea bargain by keeping in communication about the case with a deputy district attorney who was not involved. These activities were depicted in Roman Polanski: Wanted and Desired.
In January 2009, Polanski's lawyer filed a further request to have the case dismissed, and to have the case moved out of Los Angeles, as the Los Angeles courts require him to appear before the court for any sentencing or dismissal, and Polanski will not appear. In February 2009, Polanski's request was tentatively denied by Judge Peter Espinoza, who said that he would make a ruling if Polanski appeared in court. This decision appears to have ended litigation in the case, at least for now.
That same month, Samantha Geimer filed to have the charges against Polanski dismissed from court, saying that decades of publicity as well as the prosecutor's focus on lurid details continues to traumatize her and her family.
2009 arrest in Switzerland
On September 26, 2009, Polanski was arrested entering Switzerland under a 1978 US arrest warrant. Polanski had hoped to attend the Zurich Film Festival to receive a Lifetime Achievement Award.
Vanity Fair libel case
In 2004, Polanski sued Vanity Fair magazine in London for libel. A 2002 article in the magazine written by A. E. Hotchner recounted a claim by Lewis H. Lapham, editor of Harper's, that Polanski had made sexual advances towards a young model as he was traveling to Sharon Tate's funeral, claiming that he could make her "the next Sharon Tate". The court permitted Polanski to testify via a ideo link, after he expressed fears that he might be extradited were he to enter the United Kingdom.
The trial started on July 18, 2005, and Polanski made English legal history as the first claimant to give evidence by video link. During the trial, which included the testimony of Mia Farrow and others, it was claimed that the alleged scene at the famous New York City restaurant Elaine's could not have taken place on the date given, because Polanski only dined at this restaurant three weeks later. Also, the Norwegian model disputed accounts that he had claimed to be able to make her "the next Sharon Tate". In the course of the trial, Polanski did admit to having been unfaithful to Tate during their marriage.
Polanski was awarded £50,000 damages by the High Court in London. Graydon Carter, editor of Vanity Fair, responded, "I find it amazing that a man who lives in France can sue a magazine that is published in America in a British courtroom".
Relationship with Emmanuelle Seigner
Polanski and Emmanuelle Seigner married in 1989. They have two children, daughter Morgane and son Elvis, who is named after Polanski's favorite singer, Elvis Presley.
Recent work and honours
In 1997, Polanski directed a stage version of The Fearless Vampire Killers, a musical, which debuted on October 4, 1997 in Vienna as Tanz der Vampire, the German title of the film version. After closing in Vienna, the show had successful runs in Stuttgart, Hamburg and Berlin.
On March 11, 1998 Polanski was elected a member of the Académie des Beaux-Arts.
In May 2002, Polanski won the Palme d'Or (Golden Palm) award at the Cannes Film Festival for The Pianist, for which he also took Césars for Best Film and Best Director, and later won the 2002 Academy Award for Directing. He did not attend the Academy Awards ceremony in Hollywood because he would have been arrested once he set foot in the United States. After the announcement of the "Best Director Award", Polanski received a standing ovation from most of those present in the theater. In 2004, he received the Crystal Globe award for outstanding artistic contribution to world cinema at the Karlovy Vary International Film Festival.
During the summer and autumn of 2004, Polanski shot a new film adaptation of the Charles Dickens' novel Oliver Twist, based on Ronald Harwood's screenplay. The shooting took place at the Barrandov Studios in Prague, Czech Republic. The actors included Barney Clark (Oliver Twist), Jamie Foreman (Bill Sykes), Harry Eden (the Artful Dodger), Ben Kingsley (Fagin), Leeanne Rix (Nancy), and Edward Hardwicke (Mr. Brownlow). Besides the cast, the director gathered some collaborators from The Pianist: Ronald Harwood (screenplay), as noted, Allan Starski (production designer), Pawel Edelman (director of photography), and Anna Sheppard (costume designer).
Damian Chapa has completed an unauthorised biopic of Roman Polanski titled Polanski, which he[who?] co-wrote and directed in addition to playing the lead.
Polanski made a cameo appearance in Rush Hour 3 (2007) as a French police official. An attempt to adapt Robert Harris' Pompeii was abandoned.
Current projects
Polanski is currently directing an adaptation of Harris' The Ghost, a novel about a writer who stumbles upon a secret while ghosting the autobiography of a former British prime minister. It will star Ewan McGregor as the writer and Pierce Brosnan as the prime minister. Filming takes place in Germany. The Ghost is being co-produced as of February 2009 by the Babelsberg Studios.