Hines E. Ward, Jr. (Korean: 하인스 워드/Kim Hyun-ae) (born March 8, 1976 in Seoul, South Korea) is a football player who currently plays the wide receiver position for the NFL's Pittsburgh Steelers. He was voted MVP of Super Bowl XL. Born to a Korean mother and an African American father, he has become an advocate for ethnic minorities in South Korea.
High school years
Under the guidance of coach Mike Parris at Forest Park High School in Forest Park, Georgia, Ward showcased his athletic skills as a quarterback and was a two-time Clayton County Offensive Player of the Year. He earned All-American honors from Super Prep, Blue Chip Illustrated & USA Today, as well as All-State & Super Southern Top 100 honors.
College career
As a wide receiver for the University of Georgia Bulldogs (1995–1998), Ward's 149 career receptions for 1,965 yards placed him second in team history. He also played tailback and quarterback, and totaled 3,870 all-purpose yards, second only to Herschel Walker in Bulldogs history. In 1996, Hines had 52 receptions for 900 yards, and also ran 26 times for 170 yards. In 1997, Hines hauled in 55 passes and scored six TDs, getting All-SEC honors in the process. He also holds Georgia records for Pass Attempts, Pass Completions, and Passing Yards in a bowl game, from the 1995 Peach Bowl in which he completed 31 of 59 passes for 413 yards.
When he came out of college it was discovered that Ward was missing an ACL in his left knee, which he lost during a bicycle accident during childhood. This may well have affected his position in the NFL draft. He received his bachelor's degree in consumer economics from UGA, where he became a member of Phi Beta Sigma Fraternity.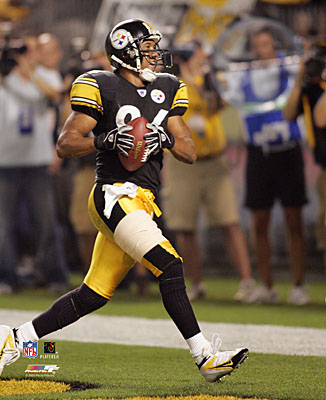 Professional career
Ward's versatility has served him well as a professional wide receiver. Since being drafted by the Pittsburgh Steelers in the third round of the 1998 NFL Draft, he has earned three team Most Valuable Player (MVP) selections. He is considered to be one of the best wide outs in the game because of his great hands and his willingness to block. He is also a four-time NFL Pro Bowl selection (2001–2004). He also had a streak of 4 consecutive 1,000 yard seasons, which likely could have been extended in the 2005 NFL season if he had not missed a game due to injury. In 2002, he set a Steelers franchise record for receptions (112), and touchdowns (12), and was named to his first of two consecutive All-NFL teams. While he is considered one of the best blocking receivers in the NFL, he has also been criticized for habitually hitting defenders on their blind-side.
In 2005, Ward missed the first two weeks of training camp in a holdout for a contract extension that would increase his salary. Ward had considered holding out before camp in 2004, but had been persuaded by the Steelers that they could work out an extension during the year. Ward eventually showed up on August 15, 2005 and was on the sidelines for Pittsburgh's first preseason game against the Philadelphia Eagles that night, though he did not play in that game. On September 5, 2005, the Steelers announced that they had reached an agreement on a four-year contract extension worth $25.83 million with Ward.
On November 27, 2005, Ward became the Steelers all-time leading receiver with his 538th catch against the Browns on Sunday Night Football overcoming John Stallworth's record. The Steelers won 34-21. Ward is also renowned as a terrific post-season receiver, accumulating 76 receptions, 1,064 yards, and 8 receiving touchdowns in 14 post-season appearances. On February 5, 2006, Ward was named MVP in Super Bowl XL as the Pittsburgh Steelers won 21-10. Ward became the second foreign born player to earn the accolade. Ward scored a 43 yard touchdown in the 4th quarter, thrown by fellow wide receiver Antwaan Randle El. Overall, Ward had five receptions for 123 yards, one TD and one rush for 18 yards.
Immediately following Super Bowl XL, Ward was videotaped for the latest "I'm Going to Disney World!" TV commercial, adding "...and I'm taking The Bus!" Ward and Steelers teammate Jerome "The Bus" Bettis appeared in a victory parade at the Magic Kingdom theme park on February 6 along with Emmitt Smith.
On December 2, 2007, Ward became the Steelers all-time touchdown receptions leader with his 64th touchdown reception against the Bengals on Sunday Night Football. Then on December 20, 2007, Ward became the Steelers all-time receiving yardage leader in a game against the St. Louis Rams.
A physical player, Ward was criticized for his block on rookie Cincinnati Bengals linebacker Keith Rivers during a game on October 19, 2008. The impact of the block left Rivers with a broken jaw. Ward was not penalized for his hard block and it was later deemed to be within the rules and he was not fined by the league, though the league would pass a rule banning such hits for the 2009 NFL season.
According to Terrell Suggs of the Baltimore Ravens when the Ravens played the Pittsburgh Steelers on Monday Night Football that season, the Ravens players placed bounty on Ward and rookie running back Rashard Mendenhall. Mendenhall left the game with a broken shoulder which ended his season. Ward talked about Suggs' comments in an interview on Pardon the Interruption. Although he held up an NFL policy banning bounties, he thought it was also humorous that they would do it to him.
On December 28, 2008, Ward caught his 800th NFL reception, extending his record for receptions by a Steeler receiver.[6] Also in this game, Ward achieved his first 1000 yard season since 2004, finishing with 81 receptions for 1043 yards and 7 touchdowns on the year. In the 2008 Playoffs , Ward recorded 9 receptions for 168 yards. In the win 27-23 over Arizona Cardinals at the Super Bowl XLIII , Ward played a supporting role, catching two passes for 43 yards. He played the game with a sprained right MCL. Two weeks after the Super Bowl , he underwent a minor surgical procedure on his shoulder and further operation will not be necessary.
Ward was signed to a four-year, $22 million extension by the Steelers on April 25, 2009, which will likely keep him with the Steelers for the remainder of his career.
Personal
Hines Ward resides in Atlanta, Georgia and has a son named Jaden. On his right arm is a tattoo of his name in Hangul, the Korean alphabet, and below that a tattoo of Mickey Mouse carrying a football. Ward is well known for flashing a nearly constant smile.
Business and media enterprises
Ward co-owns a bar in Pittsburgh's South Side called "The Locker Room". The bar sustained serious water damage in February 2007, due to flooding from a malfunctioning boiler, and it was closed for repairs until June of that year. The bar received an insurance settlement of $500,000, which subsequently became an issue during a legal dispute between the bar's owners.
On September 11, 2007, co-owner Nicholas Lettieri withdrew the entirety of the bar's funds, approximately $19,000, from a corporate account, causing it to miss a large number of scheduled payments. The company filed suit for the return of the money, and Lettieri subsequently justified his actions by claiming that the money was owed to him, also voicing the belief that the other co-owners, Ward and Kimberly Pitts, as well as Pitts's husband Korry Pitts, had falsified invoices and diverted company funds to their own bank accounts. Company attorney Thomas Castello dismissed Lettieri's allegations as "baseless, ridiculous and unfounded," and the matter is currently before the court.
The Locker Room has recently reopened under the name "South Side 86" and is now entirely owned by Ward, who bought out his co owners.
In September 2006, Ward began hosting the "Hines Ward Show" on Pittsburgh CBS affiliate KDKA-TV.
As a figure for social change
Ward's mother, Kim Young-hee (김영희) is Korean and his father, Hines Ward, Sr., is African-American. In 2006, Ward became the first Korean-American to win the Super Bowl MVP award. This achievement threw him into the media spotlight in South Korea.